ABC-Learn, Inc. Mission Statement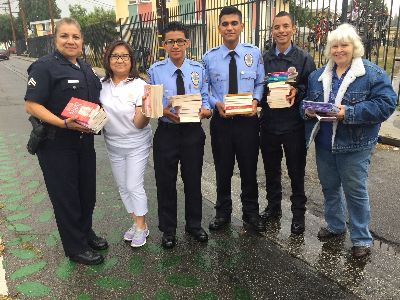 ABC Learn, Inc. is a 501( c )(3) non-profit education corporation that has been working with youth since 1996. We have donated our money, time, skills and efforts to teach children language arts, math, music, and art.
Mission
ABC-Learn exists to challenge and inspire students to lead productive lives by fostering their academic, vocational and social development. We will:
Engender students' pride in accomplishment
Aid students in acquiring the requisite knowledge and behaviors necessary to succeed in college or  vocational career pathways—student's choice
Provide an effective alternative for students who have not succeeded in more traditional school settings
Emphasize language arts, mathematics, life skills and social responsibility
Provide options for learning that meet individual needs
Refer students to support services that address obstacles to learning
Convene collaborators who will develop, promote and implement our vision and approach to change the educational paradigm for our target population.
We define success as empowering as many students as possible, irrespective of their age or personal difficulties they have experienced, with the academic, social and behavioral skills and competencies necessary for the educational and vocational opportunities they choose to pursue.  

ABC Learn, Inc. has worked successfully in Los Angeles County with various departments including Department of Youth and Family Services, Department of Juvenile Probation, LA County Department of Education, LAPD, LAUSD and various City, and County, State and Federal public officials. We have had success in detention camps and group homes teaching thousands of juveniles how to read. Our students achieved much higher scholastic scores, and were extremely pleased with our program. We receive numerous letters from our students and parents, as well as schools and probation personnel thanking us for our dedicated efforts. Our program has successfully changed the lives of those it has touched. We take pride in the achievements of our students.

Our objective is to assist students, teachers, parents, and the school system! ABC Learn, Inc. and our affiliates understand that we must work together to raise current educational levels and standards. Today's society brings many varied complications into the classroom. Teachers can no longer prepare one lesson and cover all students in the classroom. Students' learning levels within the same age group have become extremely varied in range over the past several years. As a result, it is impossible for a teacher to be effective for all students. It is our goal to help each student reach his/her proper grade level. We have found that once a child understands the language and math requirements, all other subjects are positively impacted as well.
As a non-profit we have worked in collaboration with other organizations, both for profit and non-profit, to provide educational opportunities for thousands of youth across Los Angeles County, including, access to free new books to promote literacy, creativity, and a love for learning.
 

In July 2018, the Los Angeles Daily News published this article about the LA County Civil Grand Jury study of SoCal school districts that are apparently not doing enough to help foster students close the achievement gap. Several districts say the study is unfair because it's difficult to tell how much money is being spent on foster students.  The new LCFF (Local Control Funding Formula) lumps together funding for English-language learners, low-income, high need, and foster students, so it's hard to know how much is being spent on foster kids. (Before LCFF, all schools got the same amount of money per student regardless of high need.)
 

ABC Learn has a historically proven method of increasing literacy scores and closing achievement gaps for at risk youth in juvenile detention camps, LAUSD and Pomona School Districts. The ABC Learn organization is uniquely aligned to pilot a literacy program to youth in state custody programs, and juvenile detention centers, homeless and other at-risk or displaced populations.  
 
---
Vision

The vision of the ABC-Learn is for every student to recognize his or her value as a productive member of society, equipped to pursue and achieve personal goals in a manner beneficial to all.  

We envision a world in which all students can:
Overcome hardship to gain hope and confidence

Develop social, emotional, academic and personal strengths 

Participate in all aspects of life 

Provide for themselves and their families

Build the future they want for themselves

Have access to a high quality education
"We envision an America in which a legacy of economic security and educational success passes from one generation to the next."
 

ABC Learn  will increase its make a social impact on three  key areas.

Close the Literacy and Academic Achievement gaps for children in Foster Care programs and Juvenile Detention centers  by providing at risk youth and adults  the tools, skills and paths to occupational success, including but not limited to tutoring, mentoring services and career development assistance. We have successfully utilized our program to  increase literacy rates in youth detention camps which have statistically shown the students do  build confidence in their own abilities to succeed.

Homeless and Veterans We believe we can utilize this same trusted format to help our homeless population, many of whom are veterans, regain hope in their future as well as pride in themselves through giving them the opportunity to modify their circumstances through an opportunity derived from job shadowing, mentoring, academic increase and internship programs in professions they wish to pursue.  Job Skills as well as human interaction skills can be regained and refined when one is coming through a distressing life experience. Everybody needs a little help sometimes.  
Foster community development by enabling charter schools, encouraging schools and communities to cultivate learning gardens as learning centers that teach students about smart nutritional choices, ecology, the impact of nutrition related to academic achievement and food waste on our surrounding ecosystems.